Blog

IPS Ceramics' 2019: A Retrospective
Posted by Tom Evans on December 27, 2019
2019 has been a big year for IPS Ceramics, filled with celebrations, new projects, new products, expos, articles and more. Join us as we look back over some selected highlights and look forward to the start of another decade of IPS…
---
IPS CERAMICS' 10th ANNIVERSARY

2019 was an important year for IPS: though IPS Ceramics' employees have a long history in the ceramics industry, stretching back over a collective 250+ years, 2019 marks the tenth anniversary of the IPS Ceramics Brand itself which debuted back all the way back in 2009. Since then, we've seen four Prime Ministers, four Doctor Whos, two Olympic Games and three World Cups. IPS is older than the iPad, Windows 8, the entire discographies of Ed Sheeran and Adele, and the entire Game of Thrones TV series.
We announced our Anniversary Year to much fanfare and arranged many events to celebrate what is now the IPS decade. These included a day out to Uttoxeter Racecourse and a night out at Residence Restaurant and Bar, amongst others.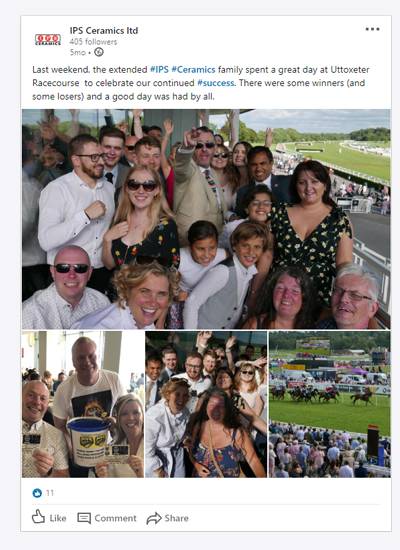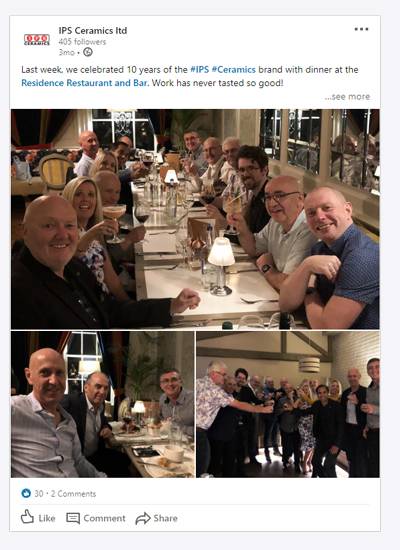 Having celebrated our first decade of success, we're now ready for our next one. Prepare for our Twentieth Anniversary celebrations in 2029!
---
MAJOR PROJECTS

When we haven't been celebrating, we've been hard at work supplying our customers with vital Kiln Furniture, Silicon Carbide and Technical Ceramic products. We've also undertaken a large number of major projects for new industries, some so advanced that we're not even allowed to mention them yet.
Some of the work that we've done with tableware manufacturers Steelite and Heath Ceramics can be read about in our second #IPSCares post (more on #IPSCares later). In both cases, we worked one-on-one with our customers in order to make their processes more efficient and cost-effective, either by introducing them to new products or by designing a completely bespoke system for them.
Our relationships with our customers are not just based on buying and selling though: we pride ourselves in maintaining close relationships with our customer base. We recently invited the Fiskars Group to visit our new IPS-Trend Industrial Ceramics Manufacturing Plant (located in the Tianjin municipality) – you can read about it here.

We look forward to maintaining our current relationships into 2019 and to forging close relationships with our new customers during 2020.
---
NEW PRODUCTS
As well as working on projects, we've continued developing our product ranges. Amongst the latest additions to our ranges are Investment Casting Plugs and High-Temperature Steatite Terminal Blocks.

Our Investment Casting Plugs are used during the Precision Investment Casting process to cover pattern assembly vent holes during casting, resulting in cleaner cast products which require significantly less finishing. Cost-effective products which come in a range of sizes, shapes and patterns, they have already proven themselves in an increasingly vital industry.

Our High Temperature Terminal Blocks are robust, fire-rated Terminal Blocks used to secure and/or terminate multiple wires together in safety-critical applications. They are used in emergency power supplies, alarm and lighting systems, enclosures in demanding situations, and oven/furnace construction. Both 8-way and 12-way Terminal Blocks are available as standard, they are much faster and easier to install than rail mounted terminals, and they come supplied with a complete set of nickel-plated stainless-steel connectors and screws.
Next year shall be the introduction of Cleaving Stones to our ranges, amongst a wide range of other products. Keep your eyes on our News Page and LinkedIn, Twitter and Facebook feeds to be kept up-to-date on new products throughout the year.
---
EXPOS AND SHOWS
2019 has also been a very busy year for shows and expos. Extending all across the world, we've taken our Kiln Furniture, Silicon Carbide and Technical Ceramic range to thousands of people in hundreds of industries. You can see the shows we were present at below:





---
IPS IN THE PRESS

IPS Ceramics has also spent 2019 making quite a splash in the press with many ceramics industry publications publishing a wide range of articles and interviews with us over the year. Here is only a small selection:

We also made a splash with our #IPSCares articles, leading the way towards making our industry greener by sharing the things we've done to make our processes more environmentally friendly and providing tips and resources to help others be greener too. You can read the series below:
---
ONWARDS TO 2020
Next year, we plan to do even more and go even further: venturing into new industries, introducing new products, visiting new expos and meeting new customers. We hope that your 2019 has been as eventful as ours and look forward to working with you again throughout 2020.