Blog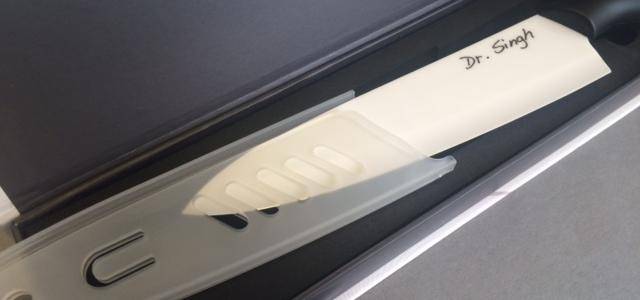 IPS Zirconia Knife Really Cutting It
Posted by Alex Painter on April 4, 2016
Last year, IPS Ceramics began its launch of a collection of superior quality products for use in the home. One of these was a ceramic Zirconia knife, marketed as part of the newly created Dr Singh range.
This is a completely new area of business for IPS but reaction to date has been good and it is clear that outside the world of engineering and industry, the dividends paid when using high performance technical ceramics are just as evident.
The Dr Singh ceramic zirconia knife was launched with a 16cm full zirconia blade. Competitively priced, these blades don't corrode and rarely need any sharpening. They are recommended for nearly all kitchen preparation tasks, with the exception of bone and fully frozen matter.
Zirconia has a Mohs hardness way above that of ordinary steel and higher than most hardened steels as well, so the Dr Singh Zirconia knife is certainly up to the task. It presents the users with just the same benefits as offered by the company's zirconia and zirconia toughened products sold to industry.
"This is one of a number of areas where IPS Ceramics is using its decades of industrial design and manufacturing experience to come up with superior consumer products," said IPS sales director Phil Green. "Taking the highly prized characteristics offered by technical ceramics and turning them to good effect for domestic tasks is an interesting new avenue for us, and we intend to pursue the policy with further introductions to the Dr Singh collection."
IPS recently added an online shop to the company website and it is expected that the zirconia knife will be featured here in the near future. The Dr Singh consumer collection also includes cordierite baking stones – suitable for breads and pizzas – available in both circular and square formats for different oven requirements.
The Dr Singh zirconia knife is available for immediate delivery via Amazon